Welcome to the Craner Family Organization Web Site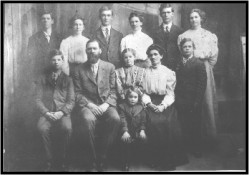 This website is designed for the purpose of providing a point of contact and information exchange for members of the George Craner Family. It is hoped that through the availability of this information all the descendents of George Craner and Elizabeth Ensor will be benifited, that the family history work for this family line will expand and that those having ties to this heritage will be modivated to turn their hearts to their fathers.
One of the main reasons for having a family organization is to prevent duplication of family history work. If you are doing or have done or know of someone who is envolved in research, temple or history work on the Craner family we are interested in your/their work. Another reason is to share, update, or correct family history data and information. If you find data that needs correction or additions please share it with us. Our goal is to present to all family members an accurate, complete, and interesting history of their progenitors. It is also of paramount importance that we provide our pogenitors all the saving ordinances of the Gospel of Jesus Christ. To this end we appreciate your comments and assistance.
Over a 100 of the descendents of George and Elizabeth gathered in Toolie for the reunion. We were expecially excited to have Sue Poulson from England with us. The recently purchased headstone for Elizabeth West Craner was beautifully done and in place. Max Craner's comments were fitting and reminded us all of our noble heritage. Jeri Fogg and her family are to be complimented for all the work done to prepare the events of the day. New officers were elected and genealogy data was exchanged. It was a most enjoyable afternoon for all.

The entire family has been blessed by the work done by our cousin Naomi. Over the past year she has identified two prior generations of ancestors and completed their temple work. Her research and tenacity has been outstanding. Many thanks for showing your Books to us at the reunion. The pictures of the Craner home site in England were especially interesting.





On Sat, July 19, 2008, approximately 75 of the Craners gathered together in Oakley, Idaho for the Craner Family Reunion. We enjoyed renewing friendships, browsing through family records, displays, finding our family on a HUGE wall pedigree chart, and a journey to England. A presentation "Craners in England" was viewed on the "big screen" with Michelle Lassig at the computer and Beth Sorenson as narrator. We then took another journey by the "big screen", "From Coventry to Oakley - Long Journey to Zion" with John Larson at the computer and Jay Larson as narrator. Pot luck lunch was delicious and enjoyed by all. John Larson gave us a briefing on the Website,

www.craner.org

and the new

www.familysearch.org

site. Prizes were awarded and a tour of the Oakley Cemetery with Rose Mary Palmer as guide.

Let's all support our new Craner Family Officers by sending them current email and regular mail addresses and other contact information so they can keep us informed about what's going on with the family.
<< Start
< Prev
1
2
Next >
End >>
Results 1 - 5 of 6